W R I T I N G
Gathering common motivations that unite a broad range of practitioners, 'FASHION FROM THE SHADOWS' -series aims to map alternative approaches to thinking, creating, presenting and discussing fashion. It provides an overview of recent developments in the discipline in order to integrate them into a new and more inclusive fashion system that encourages discussion. Instead of being suppressed, these alternatives broaden fashion's spectrum of activities and help to provide a more complete understanding of the spirit of the time which fashion has always sought to reflect.
Fashion From the Shadows...
Performative Processes

ADDRESS Journal for Fashion Criticism, 13.01.2019

Performative Processes aim to celebrate the collaborative making of fashion in a playful way. Open to those who are interested in participating, this approach seeks to transform the exclusive or hidden methods behind fashion into public events. Transformative and educational, Performative Processes promote positive experiences as well as productive critical thinking devoid of nihilist inertia. Instead of isolating and separating those involved in the process, participants in this approach encourage communal experiences, public discussion and intimate dialogues. Perspectives on fashion are shifted from a form of individualistic self-expression and invisible labour towards a collective and highly visible social practice that occurs as much through processes of making as performing and language. [...]
Fashion From the Shadows...
New Mentorship

ADDRESS Journal for Fashion Criticism, 14.08.2018

Awards granted for 'young designers', mentorship schemes and sponsorships intended to kick start the careers of budding designers are increasingly being questioned in light of recent scandals but also for their elitist and often insincere nature that now seem incredibly dated in the face of the changing fashion industry. But in what way can young entrepreneurs and creatives be supported? [...]
Fashion From the Shadows...
Archivist-Creators

ADDRESS Journal for Fashion Criticism, 25.02.2018

New creative clusters are emerging in countries commonly associated with mass-manufacturing and lower end garment production. Using traditional craft techniques, local know-how and cultural heritage accompanied often with ethically progressive business models, these new 'Archivist-Creators' are redefining the label 'made in' associated with the country of their origin. [...]
Fashion From the Shadows...
Alternative Fashion Media

ADDRESS Journal for Fashion Criticism, 14.11.2017

Recent years have represented a moment of stagnation and, to some extent, a loss of engagement with traditional print media. Since the rise of new technological outlets that require a shorter attention span such as Instagram, Twitter and video live-streaming, the demand for print has declined. Simultaneously, the fashion media as a whole have become more homogenized with most fashion magazines filled with the same catwalk looks, models and trends. As image has become more important, the little text that there is in fashion magazines has become more hyperbolic in its praise of the fashion industry with hardly any criticism on offer. Dissatisfied with this, alternative fashion media emerged out of the frustration with the current state of the media and made use of experimental techniques while producing complex content as a way to challenge the media status quo. [...]
Fashion From the Shadows...
Future Fashion Education

ADDRESS Journal for Fashion Criticism, 12.09.2017

The mythology around fashion was, and still is, built around creative directors, names and individuals. In the past, the creative genius was someone to be admired and emulated from afar. Today, as the society is more interconnected and transparent, the creative genius has lost his aura. Everything seems more attainable and less mysterious. Knowledge is readily available, producing more entrepreneurs and creatives. The reverence of single names is becoming a dated concept and the fashion industry is slowly adapting to participation and collaboration, gradually leaving its celebrity culture behind. In order for this shift in practice to fully embed itself in the minds of the future generation of fashion creatives, a new take on fashion education is needed. [...]
Fashion From the Shadows...
Mended Scars

ADDRESS Journal for Fashion Criticism, 20.07.2017

Once a regular chore, mending clothes has become a lost practice as replacements are cheaper, free time scarce and domestic skills forgotten in favor of digital technologies. As a result, mended scars are rarely found in garments anymore. Without a hint of nostalgia, new projects aiming to revive these lost traditions of mending adapt contemporary aesthetics to motivate fashion enthusiasts to care for their clothes. This new mending movement is not purely born out of financial necessity or environmental concerns. Instead, the proponents of this tradition strongly believe that the act of repair does not only serve to bring a garment back to its original state, but rather adds to its value and demarcates a visible episode in its history by inscribing traces of use and care. It is as much a reaction against disposable fashion as it is a poetic expression of beauty in the imperfect. [...]
Fashion From the Shadows...
Second Life

ADDRESS Journal for Fashion Criticism, 26.06.2017

Second Life is characterized by its aim to extend the lifespan of an item, not by preserving it in an archive or a museum, but by making it come alive again. Garment's essence is performed and each wearer contributes to its future history, co-creating meaning beyond designer's intentions. The idea is that the wearer is not a passive consumer, but rather a respected participant in the creative storytelling of fashion. Second Life unites the creative expression that is found in garments with personal narratives, rejecting the idea that fashion tells a singular story. [...]
Fashion From the Shadows...
Fast Fashion Disruption

ADDRESS Journal for Fashion Criticism, 24.05.2017

Fast Fashion Disruption seeks to raise awareness of the fast fashion industry's unethical mechanisms by manipulating and subverting its products and/or by taking performative action in and outside of the shops in which they are sold. The methods synonymous with this approach are informed by a vision for the future fashion industry that promotes ethical consumption, fair trade and social equality. Fast Fashion Disruption is deeply rooted in an interest in the inner workings of the fashion system as well as in the urge to change it. This is attempted by either challenging it directly or by pointing out existing problems. The main aims of this movement are to increase public awareness of production conditions, to decrease consumption, to promote transparency and to pressure fast fashion brands to take responsibility for the well-being of their employees. In addition to this, the movement seeks to maintain the independence of fashion's creative force and to end exploitation on all levels of the fashion system. [...]
Searching for the New Luxury

Conference & Exhibition, May 31 & June 1 2018, Arnhem (NL)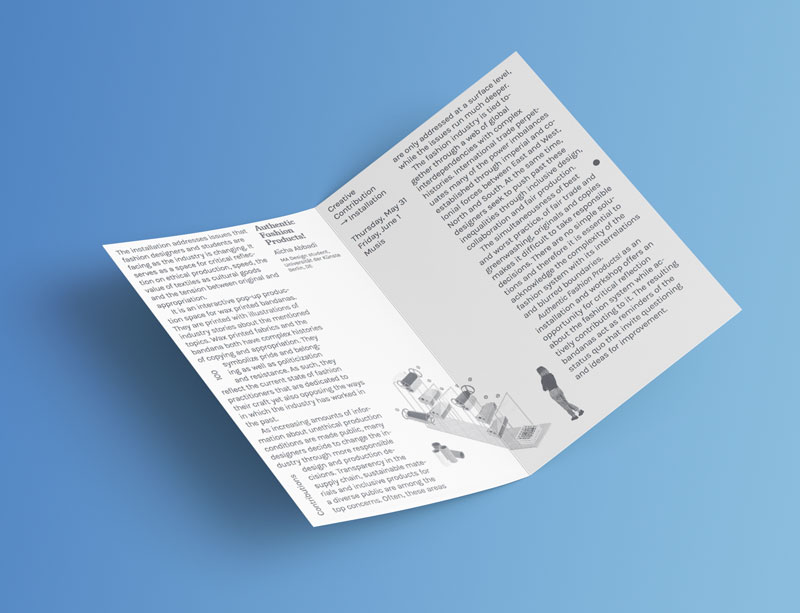 As increasing amounts of information about unethical production conditions are made public, many designers decide to change the industry through more responsible design and production decisions. Transparency in the supply chain, sustainable materials and inclusive products for a diverse public are among the top concerns. Often, these areas are only addressed at a surface level, while the issues run much deeper. [...]
The End of Fashion

Conference & Exhibition, 8 & 9 December 2016, Wellington (NZ)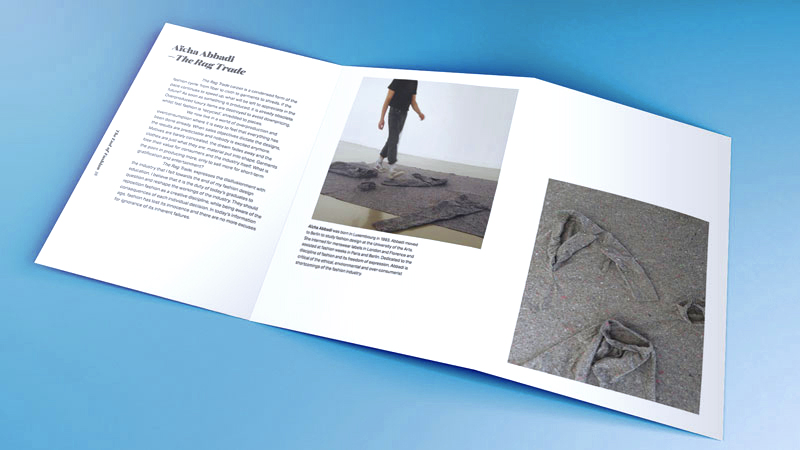 We now live in a world of overproduction and overconsumption where it is easy to feel that all has been done already. When sales objectives dictate the designs, the results are predictable and nobody is excited anymore. The motives are barely concealed, the dream fades away and the clothes are just what they are: material put into shape. [...]


I N F O
Through theory and practice, Aïcha Abbadi explores fashion's boundaries and reflects on the discipline itself: its narrative potential and poetry, the industry's complex social relations, its ethical and environmental shortcomings as well as its optimism, dedication and potential solutions. Interested in niche fashion practices and alternative ways of making and being in fashion, she considers these contributions to be essential for a shift in perspective that interrupts fashion's main narratives.

She is also invested in neighborhood initiatives in Berlin that create shared community spaces and foster active participation, creating creative, culturally and socially diverse environments.
PRESENTATIONS

2019 – Deep Fashion State of Mind book release,The Publisher, Berlin (DE)

2018 – Where are we now? Authorship in Design #2, Designtransfer, Berlin (DE) MA Graduate Exhibition

2018 – Searching for the New Luxury, Musis, Arnhem (NL) Conference & Exhibition

2013-2018 –Rundgang, University of the Arts Berlin (DE) Annual Open House

2017 – At the limits of perception and cognition, Schillerpalais, Berlin (DE) Group Exhibition

2013-2017 – Annual fashion show of the University of the Arts Berlin, various locations

2016 – The End of Fashion, Massey University, Wellington (NZ) Conference & Exhibition

2015 — KANAAN Food x Fashion x Music Fusion, Willner Brauerei, Berlin (DE) Intercultural/Interdisciplinary Event
EDUCATION

2018 – MA Design (Interdisciplinary), University of the Arts Berlin

2016 – BA Design (Fashion), University of the Arts Berlin