Upcoming Project:
Expanded Fashion Artist Book,
Publication due Fall/Winter 2019
---
---
Gathering common motivations that unite a broad range of practitioners, 'FASHION FROM THE SHADOWS' -series aims to map alternative approaches to thinking, creating, presenting and discussing fashion. It provides an overview of recent developments in the discipline in order to integrate them into a new and more inclusive fashion system that encourages discussion. Instead of being suppressed, these alternatives broaden fashion's spectrum of activities and help to provide a more complete understanding of the spirit of the time which fashion has always sought to reflect.
---
Fashion From the Shadows... Performative Processes
ADDRESS Journal for Fashion Criticism, 13.01.2019
Performative Processes aim to celebrate the collaborative making of fashion in a playful way. Open to those who are interested in participating, this approach seeks to transform the exclusive or hidden methods behind fashion into public events. Transformative and educational, Performative Processes promote positive experiences as well as productive critical thinking devoid of nihilist inertia. Instead of isolating and separating those involved in the process, participants in this approach encourage communal experiences, public discussion and intimate dialogues. Perspectives on fashion are shifted from a form of individualistic self-expression and invisible labour towards a collective and highly visible social practice that occurs as much through processes of making as performing and language.
[...]
---
Fashion From the Shadows... New Mentorship
ADDRESS Journal for Fashion Criticism, 14.08.2018
Awards granted for 'young designers', mentorship schemes and sponsorships intended to kick start the careers of budding designers are increasingly being questioned in light of recent scandals but also for their elitist and often insincere nature that now seem incredibly dated in the face of the changing fashion industry. But in what way can young entrepreneurs and creatives be supported?
[...]
---
Fashion From the Shadows... Archivist-Creators
ADDRESS Journal for Fashion Criticism, 25.02.2018
New creative clusters are emerging in countries commonly associated with mass-manufacturing and lower end garment production. Using traditional craft techniques, local know-how and cultural heritage accompanied often with ethically progressive business models, these new 'Archivist-Creators' are redefining the label 'made in' associated with the country of their origin.
[...]
---
Fashion From the Shadows... Alternative Fashion Media
ADDRESS Journal for Fashion Criticism, 14.11.2017
Recent years have represented a moment of stagnation and, to some extent, a loss of engagement with traditional print media. Since the rise of new technological outlets that require a shorter attention span such as Instagram, Twitter and video live-streaming, the demand for print has declined. Simultaneously, the fashion media as a whole have become more homogenized with most fashion magazines filled with the same catwalk looks, models and trends. As image has become more important, the little text that there is in fashion magazines has become more hyperbolic in its praise of the fashion industry with hardly any criticism on offer. Dissatisfied with this, alternative fashion media emerged out of the frustration with the current state of the media and made use of experimental techniques while producing complex content as a way to challenge the media status quo.
[...]
---
Fashion From the Shadows... Future Fashion Education
ADDRESS Journal for Fashion Criticism, 12.09.2017
The mythology around fashion was, and still is, built around creative directors, names and individuals. In the past, the creative genius was someone to be admired and emulated from afar. Today, as the society is more interconnected and transparent, the creative genius has lost his aura. Everything seems more attainable and less mysterious. Knowledge is readily available, producing more entrepreneurs and creatives. The reverence of single names is becoming a dated concept and the fashion industry is slowly adapting to participation and collaboration, gradually leaving its celebrity culture behind. In order for this shift in practice to fully embed itself in the minds of the future generation of fashion creatives, a new take on fashion education is needed.
[...]
---
Fashion From the Shadows... Mended Scars
ADDRESS Journal for Fashion Criticism, 20.07.2017
Once a regular chore, mending clothes has become a lost practice as replacements are cheaper, free time scarce and domestic skills forgotten in favor of digital technologies. As a result, mended scars are rarely found in garments anymore. Without a hint of nostalgia, new projects aiming to revive these lost traditions of mending adapt contemporary aesthetics to motivate fashion enthusiasts to care for their clothes. This new mending movement is not purely born out of financial necessity or environmental concerns. Instead, the proponents of this tradition strongly believe that the act of repair does not only serve to bring a garment back to its original state, but rather adds to its value and demarcates a visible episode in its history by inscribing traces of use and care. It is as much a reaction against disposable fashion as it is a poetic expression of beauty in the imperfect.
[...]
---
Fashion From the Shadows... Second Life
ADDRESS Journal for Fashion Criticism, 26.06.2017
Second Life is characterized by its aim to extend the lifespan of an item, not by preserving it in an archive or a museum, but by making it come alive again. Garment's essence is performed and each wearer contributes to its future history, co-creating meaning beyond designer's intentions. The idea is that the wearer is not a passive consumer, but rather a respected participant in the creative storytelling of fashion. Second Life unites the creative expression that is found in garments with personal narratives, rejecting the idea that fashion tells a singular story.
[...]
---
Fashion From the Shadows... Fast Fashion Disruption
ADDRESS Journal for Fashion Criticism, 24.05.2017
Fast Fashion Disruption seeks to raise awareness of the fast fashion industry's unethical mechanisms by manipulating and subverting its products and/or by taking performative action in and outside of the shops in which they are sold. The methods synonymous with this approach are informed by a vision for the future fashion industry that promotes ethical consumption, fair trade and social equality. Fast Fashion Disruption is deeply rooted in an interest in the inner workings of the fashion system as well as in the urge to change it. This is attempted by either challenging it directly or by pointing out existing problems. The main aims of this movement are to increase public awareness of production conditions, to decrease consumption, to promote transparency and to pressure fast fashion brands to take responsibility for the well-being of their employees. In addition to this, the movement seeks to maintain the independence of fashion's creative force and to end exploitation on all levels of the fashion system.
[...]
---
---
Searching for the New Luxury
Conference & Exhibition, May 31 & June 1 2018, Arnhem (NL)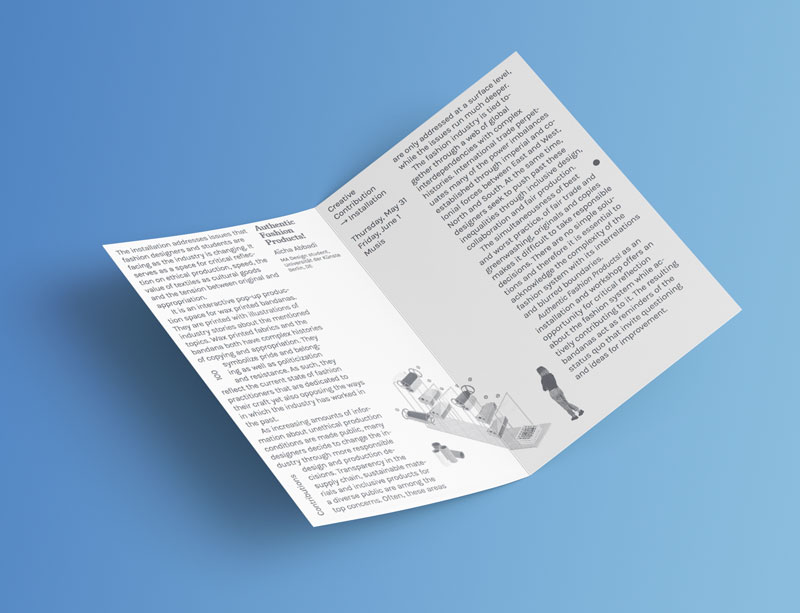 As increasing amounts of information about unethical production conditions are made public, many designers decide to change the industry through more responsible design and production decisions. Transparency in the supply chain, sustainable materials and inclusive products for a diverse public are among the top concerns. Often, these areas are only addressed at a surface level, while the issues run much deeper.
[...]
---
The End of Fashion
Conference & Exhibition, 8 & 9 December 2016, Wellington (NZ)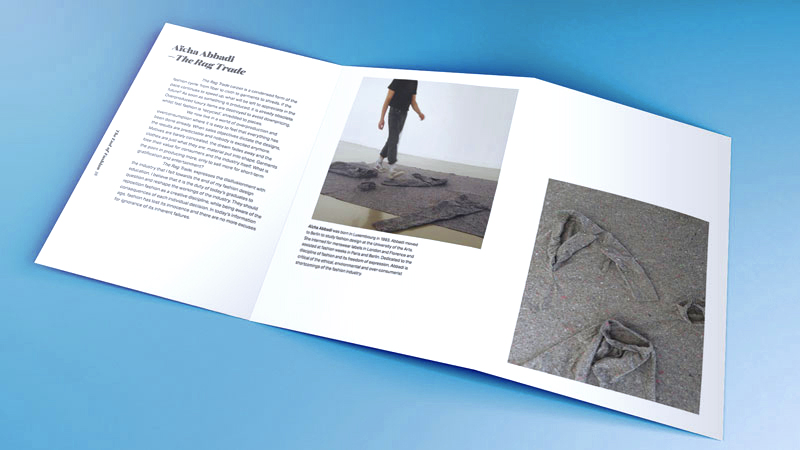 We now live in a world of overproduction and overconsumption where it is easy to feel that all has been done already. When sales objectives dictate the designs, the results are predictable and nobody is excited anymore. The motives are barely concealed, the dream fades away and the clothes are just what they are: material put into shape.
[...]
X
Fashion From the Shadows...
Second Life
ADDRESS Journal for Fashion Criticism, 20.06.2017 [*]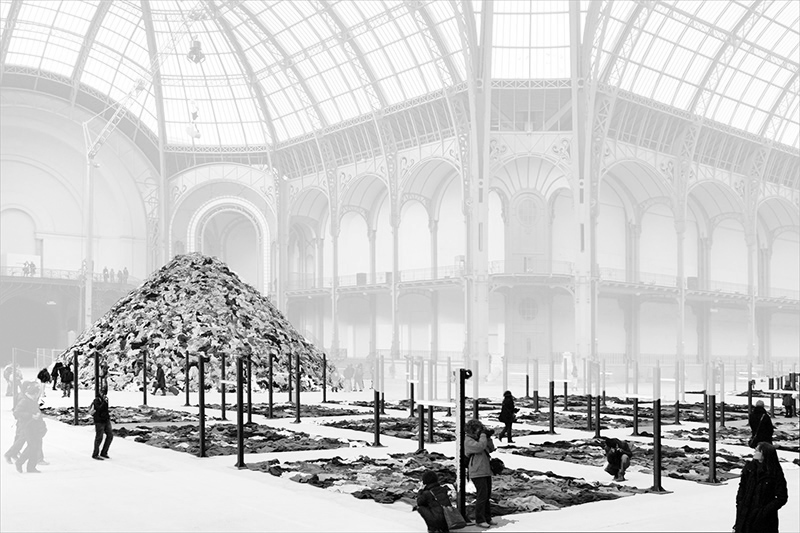 Personnes (2010) by Christian Boltanski
'I see a garment as the equivalent of a body. It is like a photograph of someone, their heartbeat. It is an object that reminds you of a subject who is not there and highlights their absence.' Christian Boltanski (2010)
ETHOS

Second Life is the re-incarnation of second-hand and vintage fashion movements. Both of them focus on the trade with and consumption of used clothing. The difference between these two is based on value: the first is situated at the affordable and the latter at the more elevated end of the price spectrum. Instead, Second Life does not focus on the material or monetary quality of the pieces, but rather the emotional one by reframing used clothing. The stories and shared emotions evoked by garments are central to Second Life's take on fashion as a way to encourage the public to see beyond the superficialities of fashion, in order to create a bond with the clothes they wear.

Second Life is characterized by its aim to extend the lifespan of an item, not by preserving it in an archive or a museum, but by making it come alive again. Garment's essence is performed and each wearer contributes to its future history, co-creating meaning beyond designer's intentions. The idea is that the wearer is not a passive consumer, but rather a respected participant in the creative storytelling of fashion. Second Life unites the creative expression that is found in garments with personal narratives, rejecting the idea that fashion tells a singular story. This is further promoted through online platforms that share stories, physical spaces that promote co-ownership, and the re-staging of used clothes without the typical barriers set by museums.

Second Life goes beyond youth culture nostalgia, superficial appearances and pop culture reference points. Instead, it is concerned with past wearers' personal lives and the private histories embedded in garments. The emphasis shifts from an interest in cultural heritage towards an identification with individual stories. The aim is to revalorize clothing and to transform them from perishable items for daily use into sacred objects. Second Life is not characterized by trends. It is something deeply personal where the wearers do not choose garments anymore, but instead, they find them.

When it comes to Second Life, the notion of ownership is less relevant. Cherished clothes outlive their wearers before they are passed on to the next person. Garments become bearers of intimate stories that are to be discovered by those willing to look for them. During a time of overwhelming information overload and the lure of the new waiting around every corner, a new urgency to preserve history, culture and personal narratives surfaces. Amongst heaps of waste, Second Life initiates a treasure hunt in an attempt to make sense of impersonal, industrially produced goods.



KEY TACTICS

Storytelling, Loaning/Renting, Repair, Swishing, Re-enactment, Reframing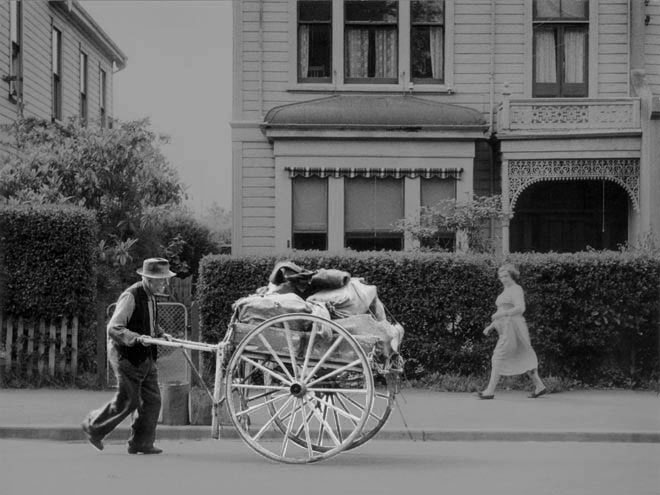 Rag-and-bone man in Dunedin, New Zealand (1952)



CONTEXT

Used clothing trade has spread all over the world in tune with industrialization, establishing secondary markets and becoming a justification for overconsumption in the economies that are doing most of the donating.

'Kafa Ulaya' is the name Kenyans and Tanzanians give to second hand clothing. It translates into 'clothes of the dead whites', which gives them a ritualistic aura. The ghosts of the past wearers are acknowledged as the new wearer puts on a layer of their identity. Ironically, second hand shops in Zimbabwe are called 'mupedzanhamo', 'where all problems end'.

East African countries (Kenya, Tanzania, Uganda, Rwanda, and Burundi), the final destinations for a large amount of global material donations, have imposed a gradual ban on used clothing imports to accelerate their local industrialization. This forces Western donors and traders to deal with the surplus of goods that were previously conveniently shipped out of sight. As concluded in a 2015 study, the global second-hand clothing trade 'is predicated upon the unsustainable production and consumption of fast fashion that feeds it. As low-paid producers in the global South consume cast-offs from the global North, which they may have made but cannot afford to buy new, the whole cycle is characterized by increasing social and economic inequalities both within and between trading states.' The flipside of second-hand business is that it is doing more harm than good in the receiving countries. This realization has highlighted the need for our relationship towards clothing to change, especially in the Northern hemisphere.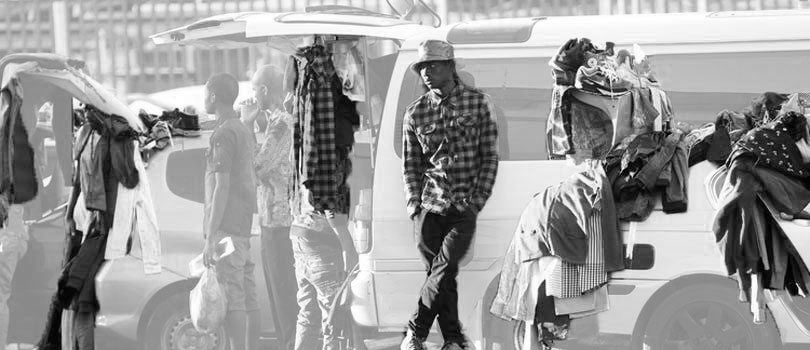 The tradition of passing clothing down through the generations for economic and practical reasons is still alive in many families. Garments are also kept for their symbolic value. Wedding dresses, for instance, become heirlooms when given from one bride to another and their re-enactment, accompanied with tales that are woven into the dress, becomes a family tradition. It is a way of honoring one's ancestors and acknowledging the transitory nature of one individual's life within the continuity of human existence. When unavailable in the immediate community, outfits for special occasions have been provided by rental services. Dating back to the 17th century, the oldest provider of ceremonial robes is Ede & Ravenscroft in London. However, it took over a hundred more years until suit hires became widespread in Europe. Although less personal, these garments still represent rites of passage as part of dances and academic, as well as religious ceremonies. They are entry tickets to other worlds, captured in photographs and forever linked to a memory. Christian Boltanski, among multiple other artists, has used worn clothes in his works to represent ghosts of the past. This fascination goes back to 19th century education, when everyday objects, including clothes, were used as a narrative tool to develop students' empathy.



CASE STUDIES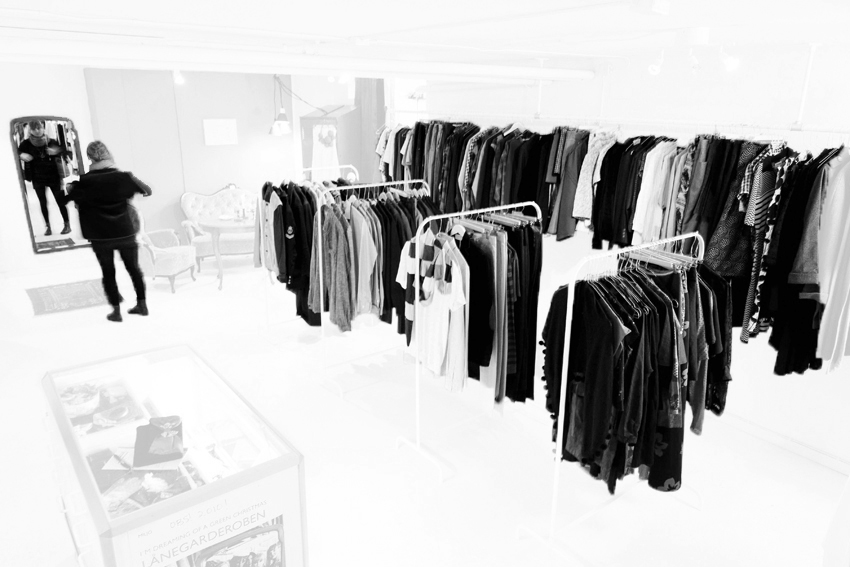 – In recent years, publicly shared wardrobes have been appearing in cities all over Europe, representing the everyday equivalent to formal dress rentals. They aim to sensitise people for the amount of time they actually wear each garment they own. Initiatives that run these open wardrobes seek to counter unsustainable patterns of consumption by asking customers to return 'shopped' pieces after a specific amount of time, freeing them again for others to wear. This way, customers still have the opportunity to express themselves through new clothes, yet do not amass more in the process. Instead of hiding away in the back of drawers, each piece is worn until the natural end of its lifecycle, satisfying multiple wearers. The people who use these organized swapping systems seek to reduce their consumption while still being able to enjoy fashion's rhythmic renewal. They collectively take care of the clothes that are used together. A great example of this is Lånegarderoben clothing library in Stockholm that opened in 2010.






– A similar concept is A Loja Vazia / The Empty Shop campaign, a temporary pop-up store that partners with charity organizations and city malls to create empty retail spaces that are filled by residents and curated by volunteers. The Empty Shop keeps clothing in the community and supports local non-profit organizations. Initially created for the Villa Lobos Mall in São Paulo by Brazilian communications agency LDC (Loducca), the concept has since travelled to Johannesburg, Manchester, Barcelona and Antwerp among others. The makers of the campaign provide the store design, with empty shelves, hangers and mannequins. The goal is to provide a temporary alternative space amongst conventional shops. Wherever The Empty Shop arrives, the public can donate their used high-quality clothing, which is then carefully styled and displayed in the store. By its mere presence and by not providing its own merchandise, the shop is a call to collaborative action. It serves as a symbol for the residents in each city inviting them to reflect on their consumption habits and to consider giving a second life to clothes provided by their local communities. The shop is emptied each evening, awaiting new donations the next day. The retrieved clothes are turned into looks pulled together by stylists and brought to homeless shelters. Proceeds gained from sales go to local charities. The project fosters community, dialogue and the revalorisation of used clothing in spaces usually reserved for mindless individualistic consumption.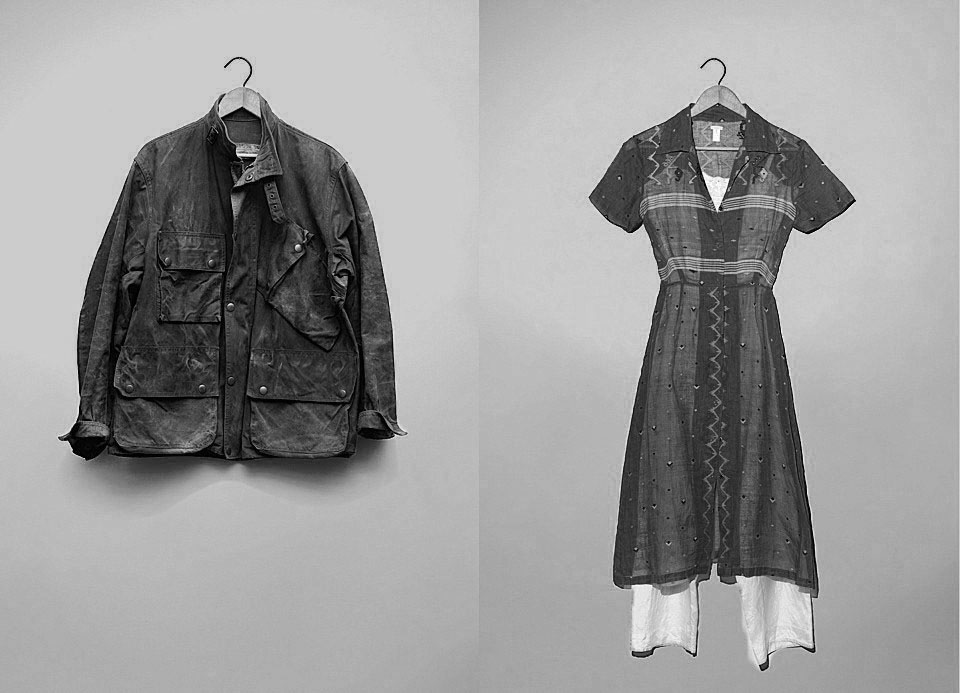 – Worn Stories is a project by the New York-based fashion writer, artist and curator Emily Spivack. It was initiated in 2010 and turned into a best-selling book in 2014. It presents garments, unworn, accompanied by stories as told by their wearers. The project continues online, where anyone can submit their story, heightening the perceived value of their pieces. The personal importance of clothes is transmitted to a wider public, bringing attention the emotional connection that most people develop with items in their wardrobes. These objects defy trends and are a reflection of past versions of their wearers or carry a memory of a pivotal moment of their life. The power of this project lies in the absence of the wearers, instigating the curiosity of the reader by inviting them to complete the story by imagining the character within the clothing. Against a white backdrop, each piece stands for itself, becoming a mythical object.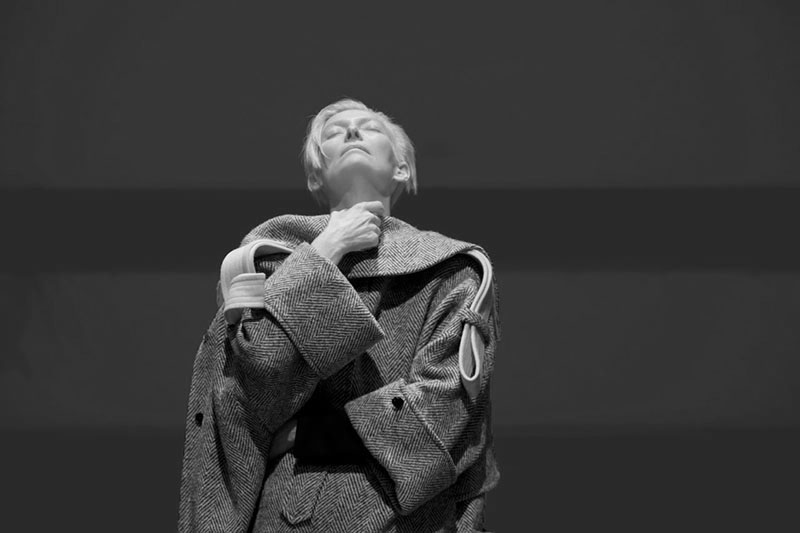 – Impossible Wardrobes is a series of performances executed by Tilda Swinton, created with Olivier Saillard, director of the Palais Galliera. In the first performance Swinton walks down a runway in a white robe, presenting series of the museum's archival garments. These precious pieces were handled with great care, Swinton's expressions and posture reflecting the essence of each piece. The second performance, 'Eternity Dress', focused on the process of making fashion by creating a dress in real time in front of the audience. The third one, 'Cloakroom' once again dealt with the second lives of garments. Visitors' clothing was central to the performance. They were asked to give their coats to the cloakroom, which was then moved onto the stage. The relationship between clothes and their wearers was closely examined and Swinton brought alive the 'souls' of the pieces by performatively interacting with them. Swinton and Saillard follow the same objective as Spivack, heightening the value of clothing and strengthening the personal relationships that wearers have with them.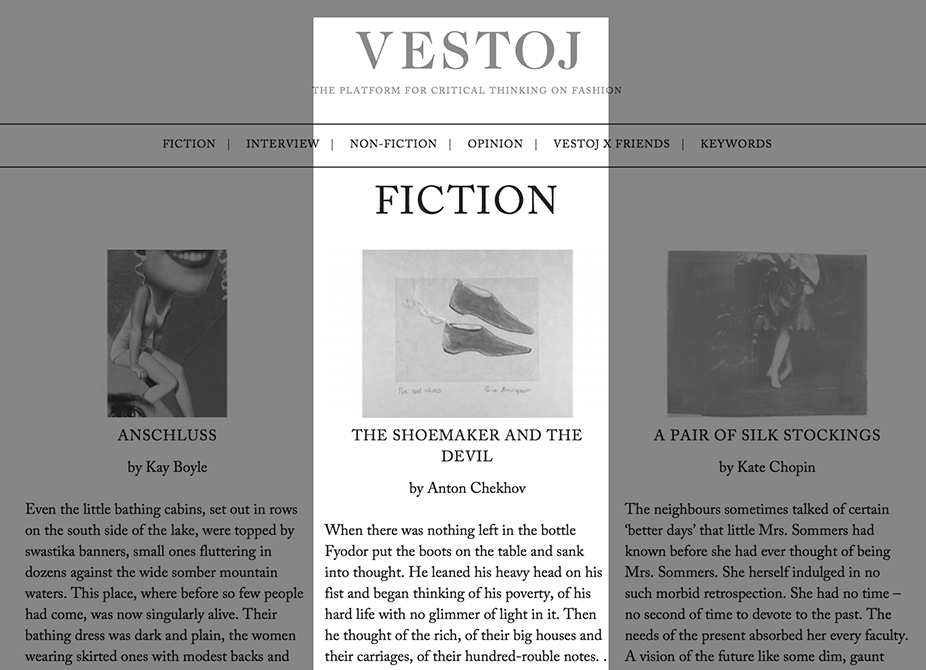 – Nineteenth century 'clothing tales' find a contemporary adaptation at VESTOJ. Both new and old fictive stories revolving around clothes aim to bring back imagination into writings about fashion. Clothing tales add a personal and a mythical dimension to everyday objects, inviting readers to spend more time with them in order to discover the magic that fashion can disperse. These stories celebrate clothes and add more dimensions to them through writing. They contribute to bringing back attention to the value of garments that we interact with on a day to day basis.



read on close